As promised, here is the second tutorial in this series. Today I bring you the reindeer ornaments. They are so cute! I hope you have as much fun making them as I did. Enjoy!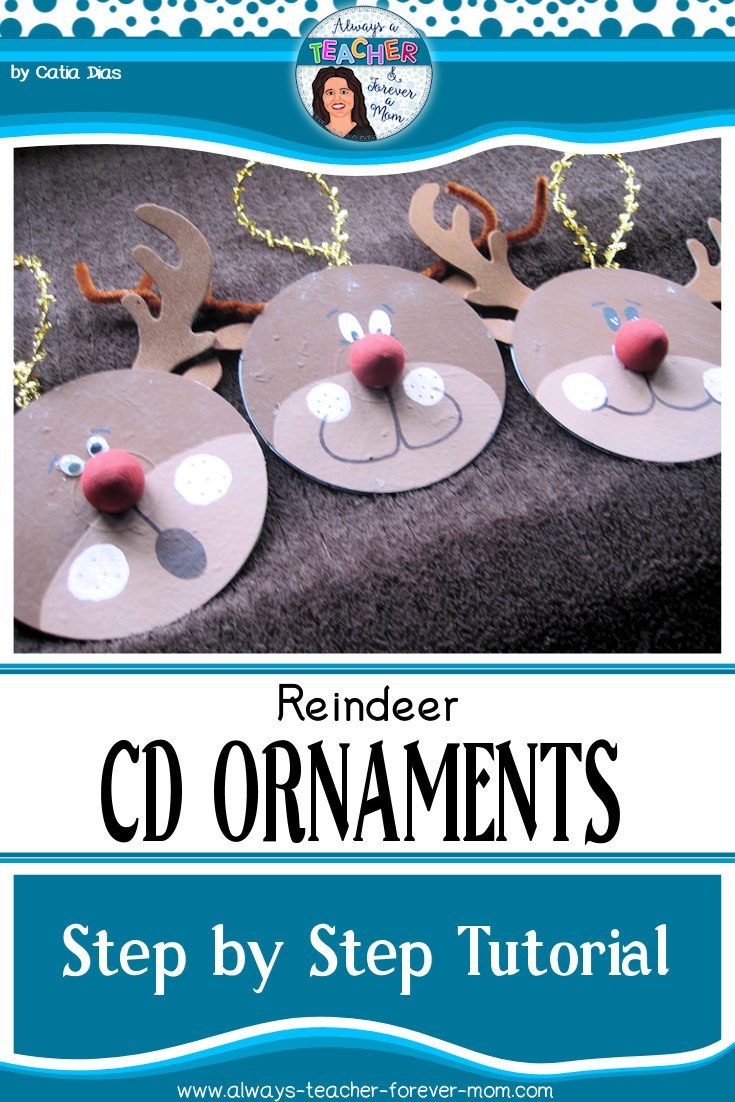 The Reindeer Ornament
What you need:
old CDs or DVDs
acrylic paints (white, black, pink, brown, red)
card stock paper
scissors
pipe cleaners
pompoms
craft foam (brown)
ribbon
paint brushes and/or sponges
small Styrofoam balls for noses.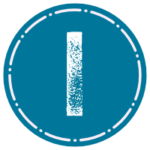 Carefully paint the disc with brown acrylic paint. Like in the snowmen ornaments, I started with a paint brush, and then gave it a second and third coat with a sponge.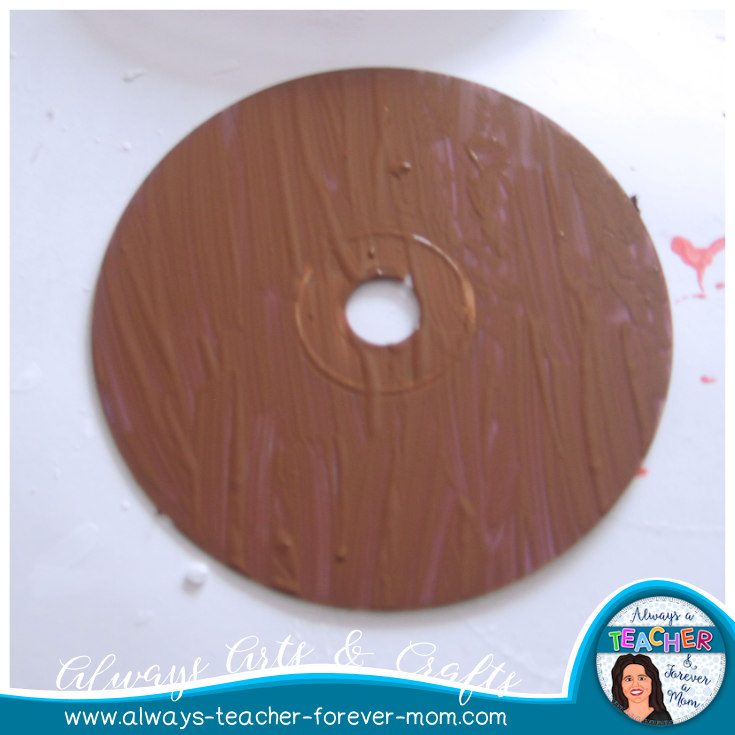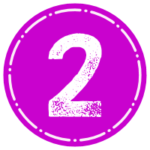 Mix brown paint with a few drops of white to make a lighter brown. Paint an oval shape on the lower edge of the disc, and make sure it passes through the center of the disc.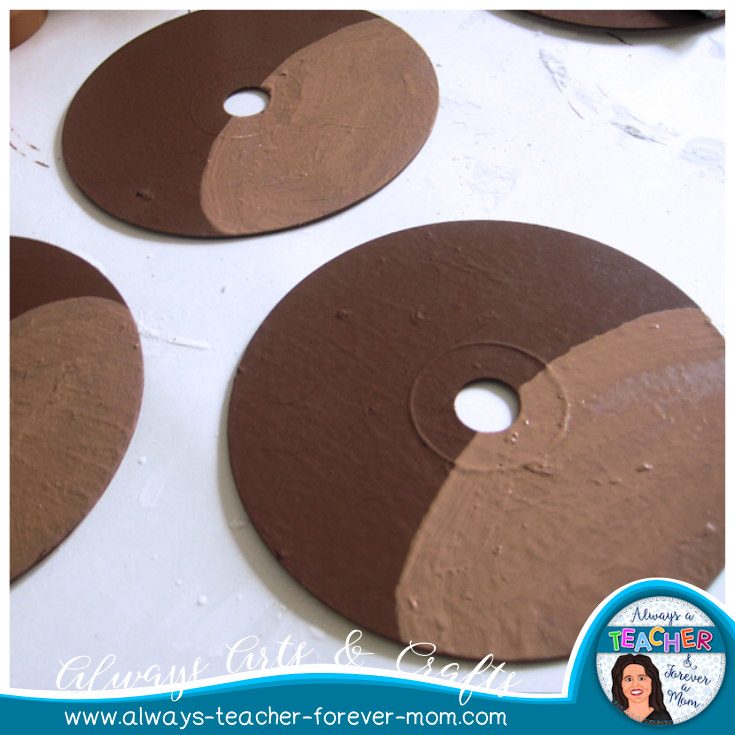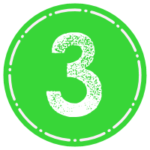 While you wait for the first coats of paint on the disc to dry, start preparing the noses. You can use a red pompom, or you can use a small Styrofoam ball. Apply one coat of red paint and let dry. Apply a second coat.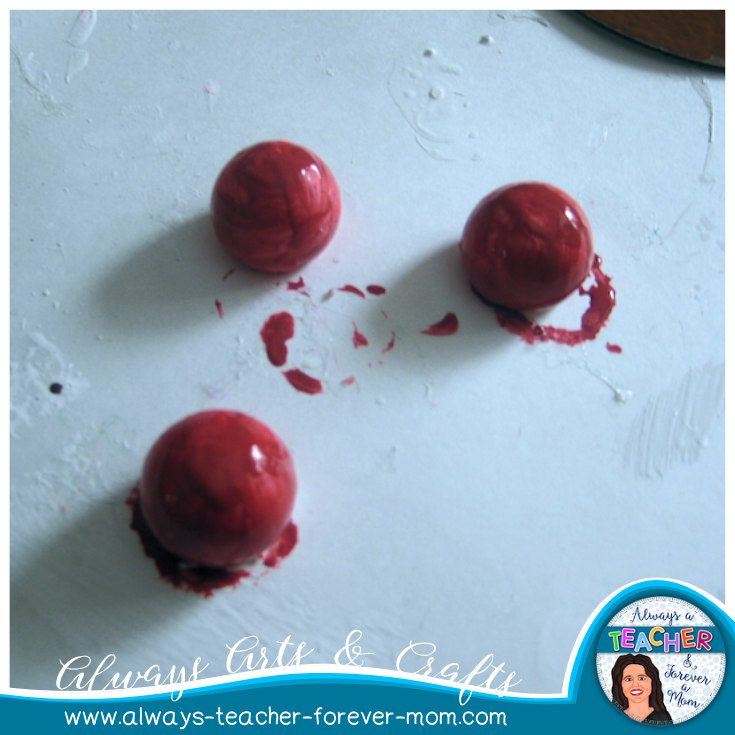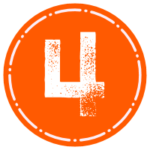 Paint two small, black ovals above the center of the disc for the eyes. You can use a thinner paint brush or a cotton swab. I also used a toothpick to add three small white dots, and give the eyes an extra dimension. Alternatively, you can use googly eyes 🙂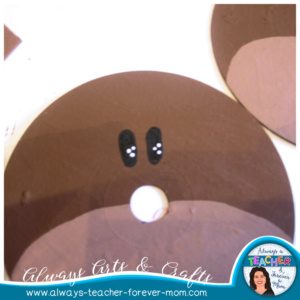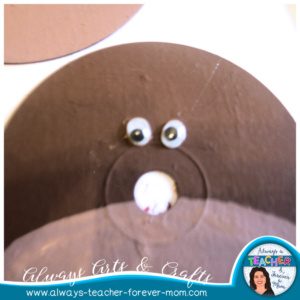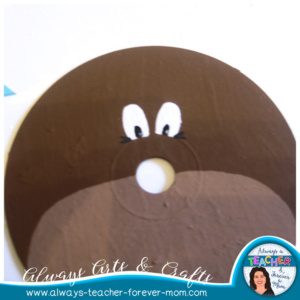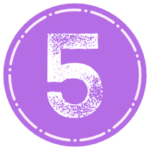 Draw the mouth with black paint or a black permanent marker. Glue the nose to the center of the disk, and add some pink blush to the cheeks 🙂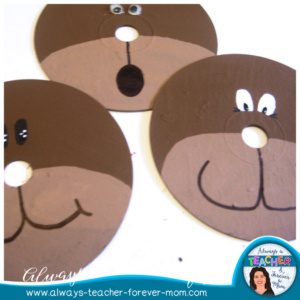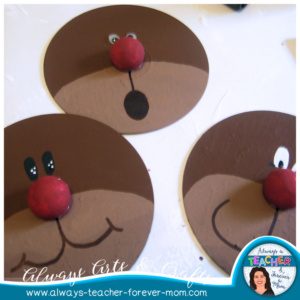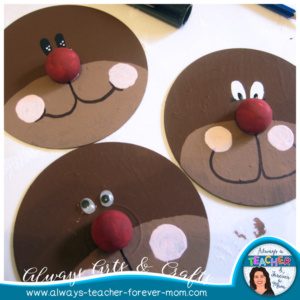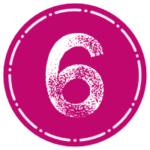 For the antlers, you have two options: use pipe cleaners or craft foam.
If using pipe cleaners, twist three pieces into each other, making sure that you leave the edges free. You can then fold the edges towards the outside to shape them.
If using craft foam, draw a template on a piece of paper and then trace onto the foam. You can then cut them and glue them to the back of the disc.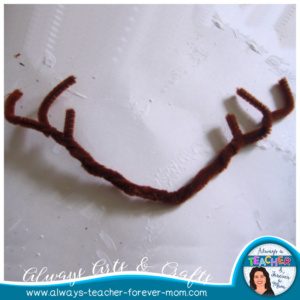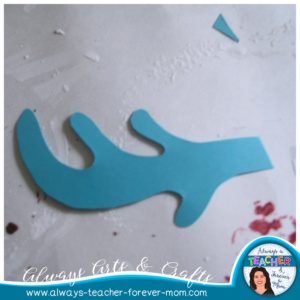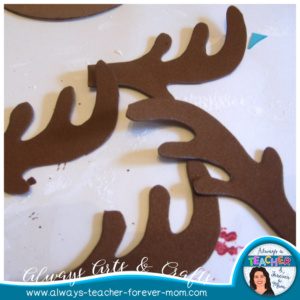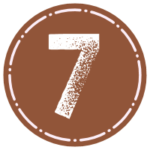 Once the antlers are glued to the back of the disc, make sure you also glue the ribbon and the piece of card stock paper.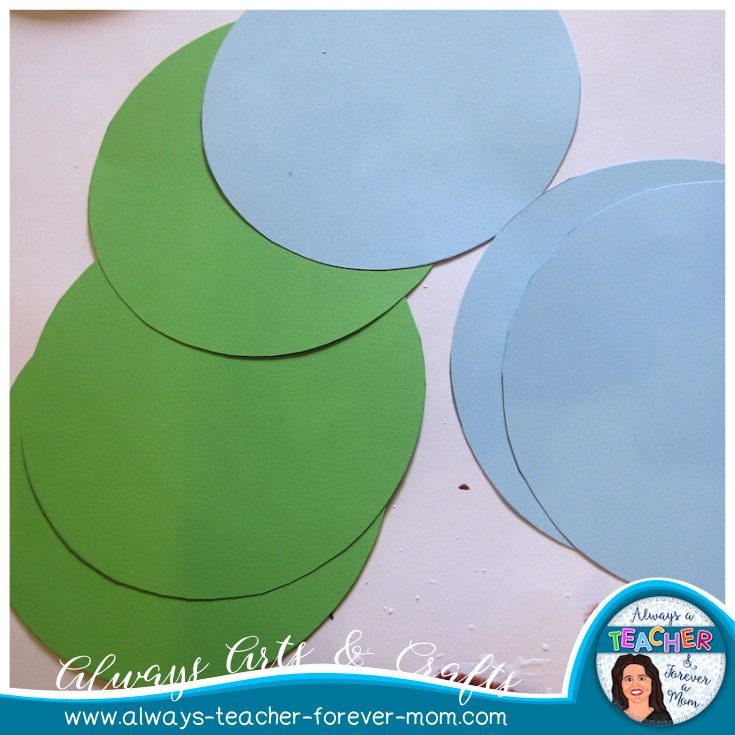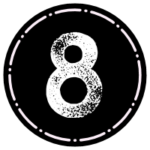 Here are some variations that you might use as a reference: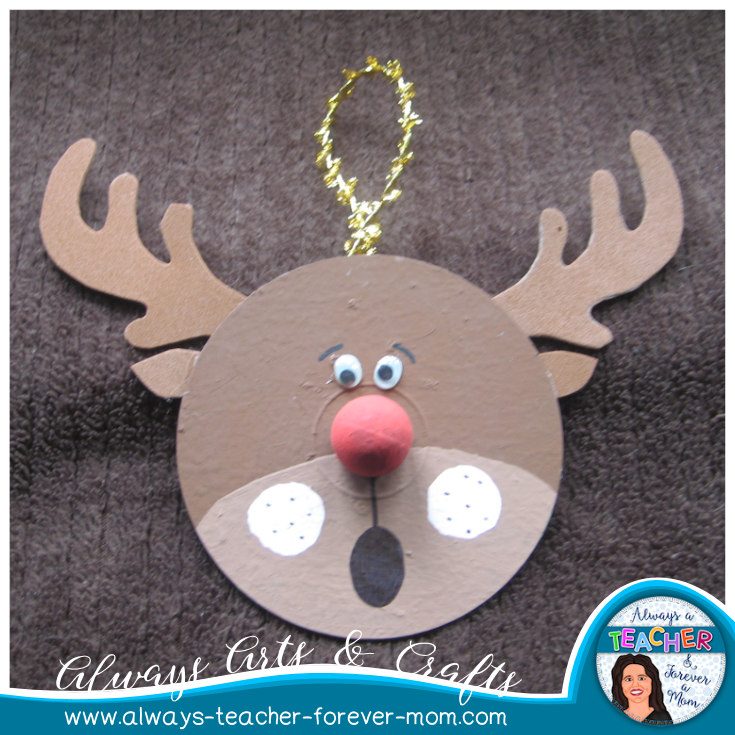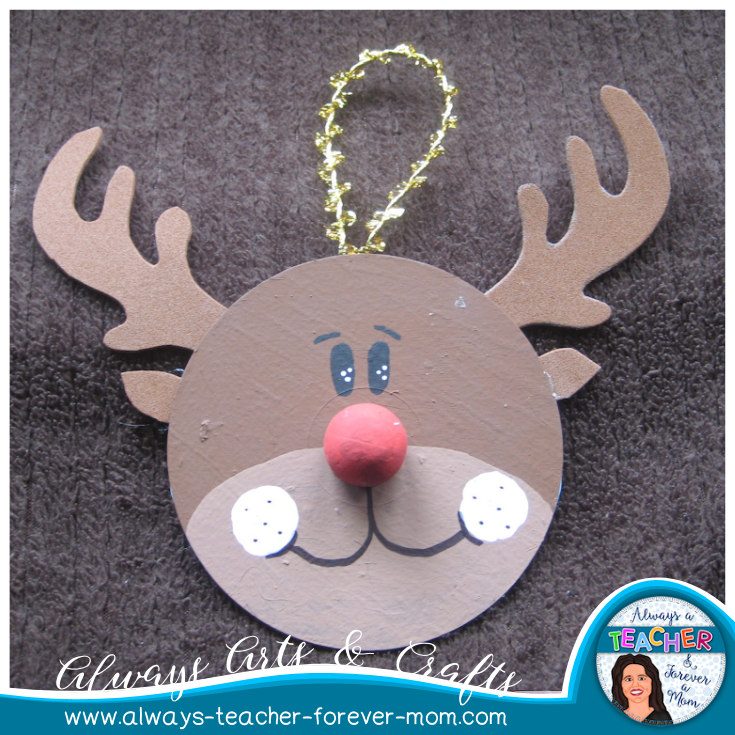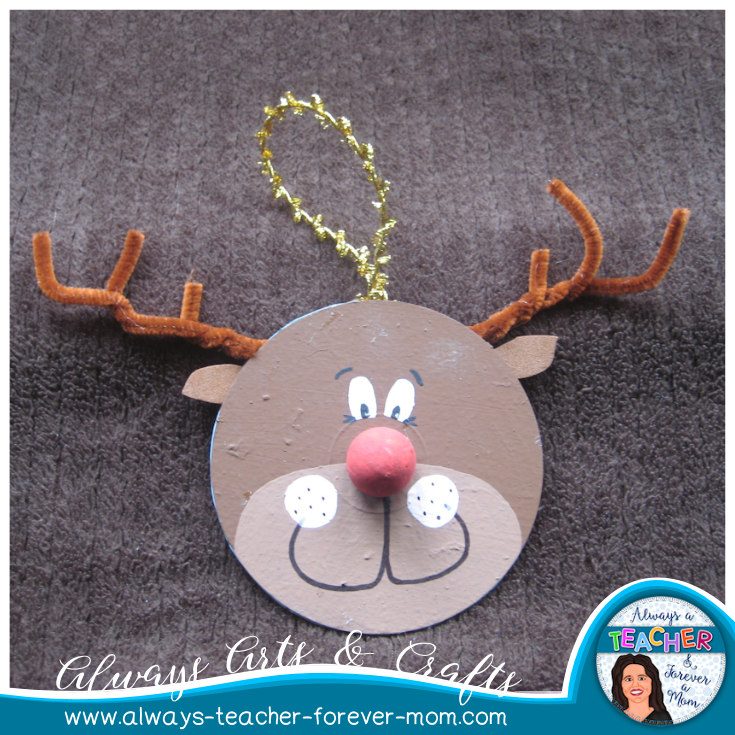 I hope you enjoyed this post. I will be posting a new tutorial for another CD ornament very soon, so stay tuned!! 🙂
Thank you for reading and please feel free to leave comments below.
Take care,