How many times have you cringed at the thought of your students and/or children exploring their creativity through paints and brushes? How many times have you tried to think of alternatives to art activities that do not involve so much mess and cleaning up? If you are anything like me this happens more times than you care to count, lol.
Don't get me wrong, I'm all for allowing children to express their artistic skills in as many ways as possible. However it is always with a heavy heart that I set up the painting supplies and the cleaning paraphernalia that I'll need to tackle the unavoidable mess, lol. If only there was a way for children to paint without all the mess that comes with it!!
Well, recently I have had the opportunity to test a new product that has provided me with a solution to this issue. Kwik StixTM is an innovative product that allows for the use of tempera paints without all the mess.
—- What exactly is Kwik StixTM ? —-
Kwik StixTM is nothing more than dry tempera paints in a tube that can be used just like crayons. They come in boxes of 12 or 6 for individual use, or in cases of 96 (8 tubes per colour) for classroom use.
Although I consider myself an artistic person, I thought that to do justice to this product, I needed to put it through the scrutiny of my trusted team of advisors. So, I enlisted the help of my daughters and nieces (whom I was babysitting for a few hours), and we got to work. Who better than them to give me a straightforward and honest opinion?
The first thing that I noticed, was that the thickness of the tubes was just right for smaller hands. My youngest niece was quite comfortable using the tubes, and I was surprised at the easiness with which she used the paints to draw her very special picture 🙂
The older girls expressed their appreciation for the control that the tube gave them while painting. They mentioned that it was easier than a brush, even though it was harder to work on the smaller details of their artwork.
I noticed how easily the children moved the paints on paper. They truly liked how it felt so "smooth"! The paint slides with little resistance on the paper, and provides full coverage of the surface it touches. According to the girls, one of its benefits is that they don't have to go over a second time to retouch areas that didn't get as much coverage. They felt that the paint was quite uniform and immediately provided a finished look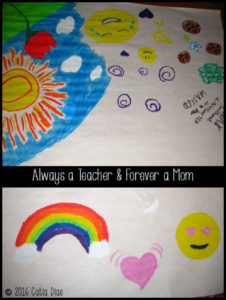 One of the most appreciated features of this product (by both mom/aunt and kids), was the drying rate. Everyone was quite pleased that it dried almost immediately, which prevented a messy work area, dirty clothes and paint on hands and faces 🙂
Overall, we all had a great experience with this "testing session". The girls enjoyed themselves, and I was not cringing at the thought of having my kitchen table all messy and full of paints, lol.
At the end of our painting activity, we gathered around the table and came up with a small list of pros and cons. I was pleased to find out that the pros greatly outnumbered the cons, lol.
tubes are easy to use and hold
paint slides easily
offers excellent cover of the surface being painted (no need for extra layers of paint)
the paint feels nice and thick
it dries very fast
the colours are bright and vibrant
the paints have a light smell as opposed to the liquid paints we used to have around
the "twisty thing" at the bottom of the tube is fun to use
And my personal favourite: NO MESS!!!!!

Due to the design of the tube, it took the girls a little bit of time to figure out which side was the top and which one was the bottom. Both sides have striations that make it look very similar.
The caps are a little hard for smaller children to open.
Tubes don't lend themselves to highly detailed work.
As you can see, the cons are not a deal breaker. The product is truly an asset to anyone's art supplies. We will definitely use these on a regular basis from now on!
The company has graciously offered to gift one of my readers with a Kwik StixTM set of 12 colours. Please enter the giveaway for a chance to win this set for your home or classroom.
RULES FOR THIS GIVEAWAY
**What is the prize for this giveaway?**
This giveaway is for ONE Kwik Stix set of 12 colours.
**Who can enter?**
Entrants must be 18 or older. Entrants MUST be residents of USA or Canada.
**How long does this giveaway go for?**
The giveaway starts March 7, 2016 and ends March 12, 2016 at 12:00 a.m.
**How can you enter?** Choose from the options provided. You can either just enter the mandatory options or you can enter them all. The first option asks you to visit Kwik Stix Facebook fan page. The second option asks you to visit my Facebook page. You are welcome to like both pages if you wish 😉
The third option is not mandatory. You are asked to subscribe to my blog's newsletter. You'll need to follow the link provided on the blog's top menu, and then have to enter the email address that you used to subscribe.
**Who is offering this giveaway?**
Well, I am, but in partnership with The Pencil Grip company! I will announce the winner in this blog and on my Facebook page March 12, 2016.
**How will the winner be chosen?** The winner will be chosen at random through Rafflecopter, and then contacted via this blog and my Facebook page. The number of eligible entries received determines the odds of winning. The winner's first name and last initial will be posted on this post and on my Facebook page. The winner is required to contact me via a Facebook private message within 24 hours. If the winner does not contact me within that time frame, he/she forfeits the prize, and a new winner will be chosen.
The winner will need to send me his/her home address. I will email the winner's address to the company so that they can ship the prize to the winner.
**Also, all entries will be verified. If the winner's entries are not verifiable, he/she forfeits the prize and another winner will be chosen.**
I hope you are able to participate in this giveaway. These paints are definitely worth it!
If you live outside of the USA and Canada, don't loose heart. You can easily obtain these paints through Amazon.
Please feel free to share this giveaway with your friends and colleagues.
Take care,
Catia